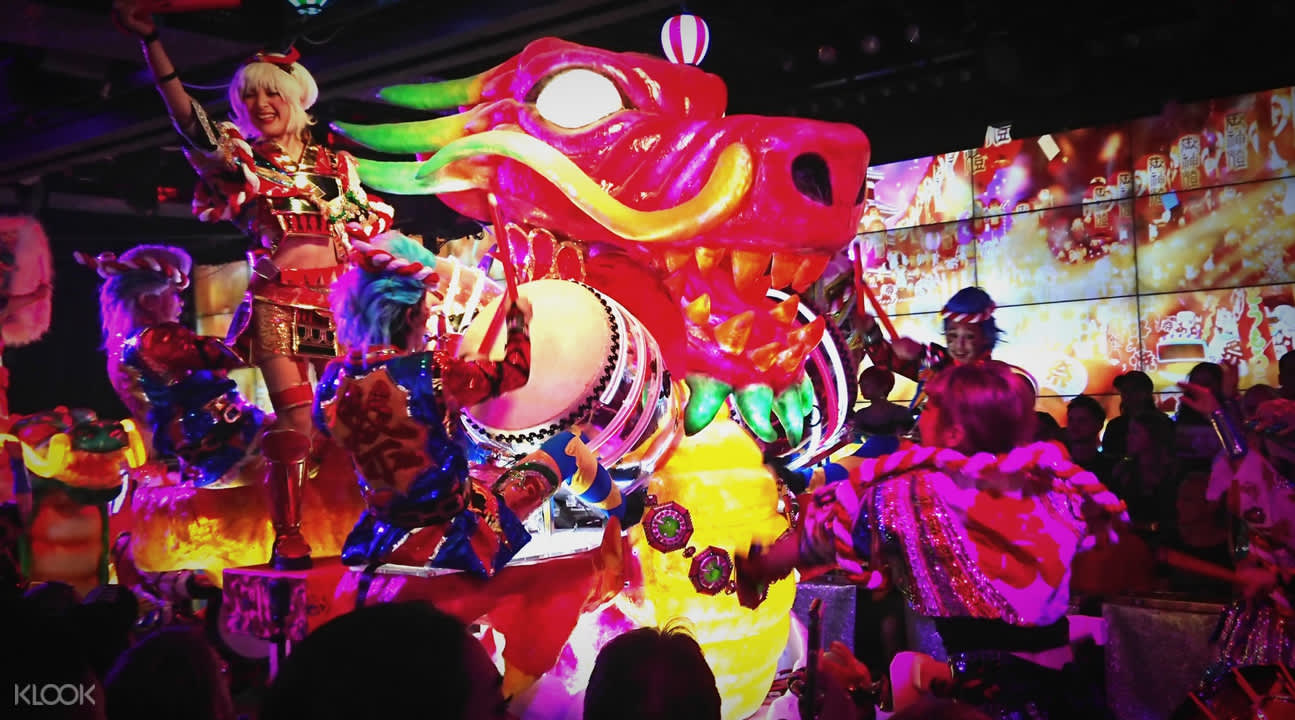 Giant Cobras.
Dancing Horses.
Warrior Girls.
robots.
maybe A.I.?
What in the world are we talking about?
The only Robot Restaurant in Asia
Giant Cobras.
Dancing Horses.
Warrior Girls.
What in the world are we talking about?
No, we're not out of our minds, we're talking about the Robot Restaurant in Japan!
Located in Kabukichō, Shinjuku, you definitely can't miss it! All you need to do is look out for a colossal neon signboard with two equally giant robots. Hold your breath and be transported into an alternate reality where flashing lights, crystal chandeliers, mirrors (lots of them) and neon sparkles take charge.
You, my friend, have been transported to the world where robots rule!
We present to you a foolproof guide to having the best experience at Tokyo's Robot Restaurant.
How do I get to the Robot Restaurant?
The Robot Restaurant is pretty accessible, only a 5-minutes walk from
JR Shinjuku Station
Shinjuku Sanchome Station (Tokyo Metro)
Toei Shinjuku Line
Address: 1-7-1 Kabukicho Shinjuku-ku Tokyo, Japan
Klook Pro-Tip: If you're coming from JR Shinjuku Station, take the East Exit for Kabukichō. With Studio Alta in front of you, cross the street and walking any of the side streets to Yasukuni Dori (a street in Shinjuku popular for its neon lights). Finally cross the pedestrian and you'll spot a Family Mart Convenience Store and like we mentioned, the gigantic neon sign will give it away.
We suggest you purchase a Tokyo Subway Ticket or JR Pass for a better deal rather than buying per distance travelled each time you wish to take the subway.
Where can I get tickets?
Tickets are available at their official website or head down to your hotel's concierge to request for a ticket reservation. Either way you purchase your tickets, you are required to redeem them at the ticket counter across the street of Robot Restaurant.
Alternatively, you can book via Klook in the comforts of wherever (as long as you have an internet connection) and enter Robot Restaurant directly with our mobile e-ticket; no redemption required.
What does my admission ticket include?
At the Robot Restaurant, each admission ticket entitles you to a 90-minute show. When you enter, food and drinks can be bought a la carte.
Klook Pro-Tip: You can always pay an additional fee to include a Bento Box Meal. We suggest havinga meal before heading over because there isn't much to choose from and the portions can be quite small.
The show happens four times a day. However, do check the official schedule or give them a call to ensure the show is ongoing.
First Performance: 4:00pm (doors open 3:00pm)
Second Performance: 5:55pm (doors open 5:00pm)
Third Performance: 7:50pm (doors open 7:00pm)
Fourth Performance: 9:45pm (doors open 9:00pm)
You must check in at least 30 minutes before the show starts.
Book your tickets for the first performance at 4.00pm over the weekend with Klook and get 2 exclusive free gifts: a JPY500 drink coupon and pictures with the robots!
Is there a dress code at Robot Restaurant?
Interestingly enough, yes there is! It's important to note that you must follow these strict guidelines properly to avoid an embarrassing rejection at the entrance.
No sunglasses
Not intoxicated (drunk)
No visible tattoos
No costumes (cosplay, wigs etc)
There is also a stern restriction over professional photography, therefore professional cameras aren't allowed. Thank goodness for the ever improving camera quality of our smartphones, you'll still be able to immortalize your (off the wall) experience.
The Robot Restaurant is extremely Instagram-mable in its own special way.
WiFi might be weak because in a room full of 120 people (if it is full house), signal strength ain't on a roll! We suggest you get a Portable Wifi Device to keep you connected at maximum signal strength so you can bombard your friends with weird colourful robots.
Remember not to touch the dancers and not to leave your seats as well.
Klook Fun Fact: You are asked to cover up any visible tattoos because of the association with mafia in the Japanese psyche, and not to wear sunglasses for the same reason.
What is the show like?
Spectacularly bizarre.
Multi-coloured laser lights, flashy female dancers (don't worry, it's capped at PG-13) and odd-looking robots is all we can say. There isn't much of a linear storyline and you probably won't understand what you're watching, but there's one thing that we're sure of – endless energy and lots of laughter! From drumming beats to mock battles between giant sharks and dancing horses, it's seriously entertaining.
There are 3-4 short breaks in-between sets where staff will parade the theatre, holding up signboards with food and drinks in hopes of getting you to binge eat for the next segment. This is your cue to redeem your free JPY500 drink coupon! Most will probably get a drink or 2 along with some popcorn to keep sane.
Glow sticks will be handed out at the last segment so you can wave them ecstatically in the air as you bob along to the electronic beats!
The Robot Restaurant epitomizes the bizarre side of Japan and it is definitely an experience you shouldn't miss out on your trip to Tokyo!
More than amazing
We all know travelling can sometimes be a costly affair, with attraction tickets and transport taking up most of the budget!
Enter the Osaka Amazing Pass. With FREE entry to over 30 attractions and unlimited travel throughout Osaka, you can be sure this will be the one of best S$30+ you'll spend on your next holiday to Osaka.
First, check out how the Klook Team used our Osaka Amazing Pass in this video!
FREE entry to more than 30 iconic attractions in Osaka
One of the biggest perks of having the Osaka Amazing Pass is enjoying FREE entry to some of the city's most iconic attractions. Here's some of the highlights!
Osaka Castle
This postcard-worthy castle had a rough past and was rebuilt multiple times, but the Osaka Castle of today has withstood the air raids of both World War I and World War II and even comes with its own elevator!
Jump right into history and go all the way up to the 10th floor for a bird's eye view of the park and beyond. Each floor tells a different phase of Osaka's history – something all history buffs will definitely appreciate!
Umeda Sky Building Floating Garden
Umeda Sky Building Rooftop Garden is exactly the kind of place you'd bring your significant other to on your first date. The ground is dotted with luminescent dots that resemble the night sky, and there are even photo opportunities for couples to immortalize their date!
We recommend going at night to catch the best of the city lights, though this is also when it starts to get rather crowded. If you're visiting during Winter, be sure to layer up – it gets pretty chilly at the top!
Tempozan Ferris Wheel
Ferris Wheels never get old! The Tempozan Giant Ferris Wheel is one of the largest Ferris Wheels in the world and offers unobstructed views of Osaka.
Try and spot the Osaka Aquarium while in the air! The ride can be pretty unnerving especially when you're 112.5 metres from the ground – but the view is all worth it.
Tsutenkaku Tower
Iconic of Osaka – the Tsutenkaku Tower was built in 1912 as a symbol of the new world and commonly referred to as the Eiffel Tower of Japan. You can go all the way to the top of the tower, but before that you definitely have to pay Billiken a visit.
Billiken is a deity that appeared in the dreams of American artist Florence Pretz and has become the resident symbol of good luck and prosperity in Osaka. Rub his left foot for love, and right foot for prosperity!
Bonus: Don Quijote
We won't spoil this for you but just along the river in Dotonburi lies a shop called Don Quijote with some of the biggest varieties of Japanese snacks, beauty products, household wares and random items like onesies!
Quell your Gudetama withdrawal symptoms and lay hands on all the matcha flavoured goodness before you head home. An even bigger plus is you'll get to claim tax from all your purchases so enjoy your shopping guilt-free!
P.S. Don't miss out on the takoyaki-flavoured Pretz.
Unlimited travels on trains and buses
Both passes will give you unlimited travels on the Osaka Municipal subway and Osaka City buses for the duration of your ticket.
The One-Day Pass includes travel on selected parts of private railways including the Hankyu Railway, Hanshin Railway, Keihan Electric Railway, Kinki Nippon Railway and Nankai Railway.
Check out the areas of travel for the One-Day Pass and Two-Day Pass.
Exclusive discounts and deals
The deals don't just stop at free entry and unlimited travel; you can even use the TOKU coupons inside your Osaka Amazing Pass guide to exchange for monetary discounts!
For example, to visit the Osaka Aquarium or Kaiyukuan, simply use two TOKU coupons to get a ¥200 discount off your admission ticket!
Get money off your dinner or go crazy at Round One with your friends – the choice is yours!
Where to buy the Osaka Amazing Pass
You can typically purchase an Osaka Amazing Pass from tourist centres in Osaka itself, but to save yourself the hassle of looking for one, you can Klook yours at just S$33 for a One-Day Pass with easy collection on arrival at Kansai International Airport!
Once you exit the Arrival Hall, simply take the escalator down to the first floor and look for the HIS Counter with a blue signboard located next to the Northern Exit. Alternatively if you wish to pick up your pass in Osaka City, you can pick it up from the Osaka City Air Terminal at JR Namba Station.
When collecting the pass be sure to ask for the English version of the guide before you leave the counter!
Osaka Kansai International Airport Terminal 1
HIS counter (1/F) next to the Northern Exit in the Arrival Hall
Opening hours: 8:30am-10:00pm
Osaka City Air Terminal (JR Namba Station)
Japan Holiday Travel OCAT Tourist Information Center (1/F)
Opening hours: 8:30am-8:30pm
How to Use The Osaka Amazing Pass
The Osaka Amazing Pass takes the form of a physical ticket that is valid for activation within a window period of about 4 days. This means you will need to activate the pass either by having it scanned or by taking the subway.
When using the subway, the Osaka Amazing Pass replaces your train ticket – simply insert into the ordinary ticket slot at the gantry and enter. You'll have to scan your ticket to enter some attractions while others simply require you to flash your pass for entry.
Most people assume the pass is valid for 24-hours regardless of the time of activation, but that is not the case. The One-Day Pass is valid for 24-hours between 05:00 to 04:59, and the Two-Day Pass for 48-hours  05:00 to 04:59.
Do be careful not to lose your ticket as it is not refundable or replaceable!
Klook yourself an amazing Osaka holiday
It's also good to know that you can pick up some 4G WiFi as well as Kansai Airport Express tickets at the same collection point so you can save yourself the massive hassle of travelling to multiple places!